So, you're thinking about outsourcing your marketing production, but have concerns about your needs and
expectations not being met? After all, onboarding a new marketing execution partner can feel like an impossible
task – aligning workflows, miscommunications, endless briefings, and complex management procedures which all
make your head spin.
Offshore outsoucring with SPRING Production is simple. It's quick, painless, and designed with your experience in mind.
Onboarding for us means setting the stage for a healthy and long-term partnership between us and the customers. It means ensuring that customers are helped into our business areas so that we set the best conditions for the collaboration to succeed in creating success as quickly and easily as possible.
Based on years of experience, we have developed a streamlined onboarding process that enables us to efficiently manage your production jobs with a minimal effort, so that you can focus on driving your business forward. By the time you've finished reading this article, we're confident you'll understand exactly how easy it is to onboard with us and realise the practical benefits of working with an experienced production partner.
We listen to client wishes and their schedules, and by assessing potential, modernity, and complexity in the organization, we onboard either through a standard plan with predefined meetings, a tailored action plan, or a 3-stage rocket. However, through our established onboarding method, we set the groundwork for personalised, collaborative partnerships. We transform wasted hours into genuine time- and cost-savings from the start.
Our onboarding process may look as such.
Every business is different and appreciating how you work is crucial to realising a mutually beneficial partnership.
During the foundation phase, we prioritise defining best practice, and do this in collaboration with you.
The instruction phase is all about learning, training, and integrating ourselves into the core of your business. 
The final implementation phase involves using the learning outcomes from the previous stages.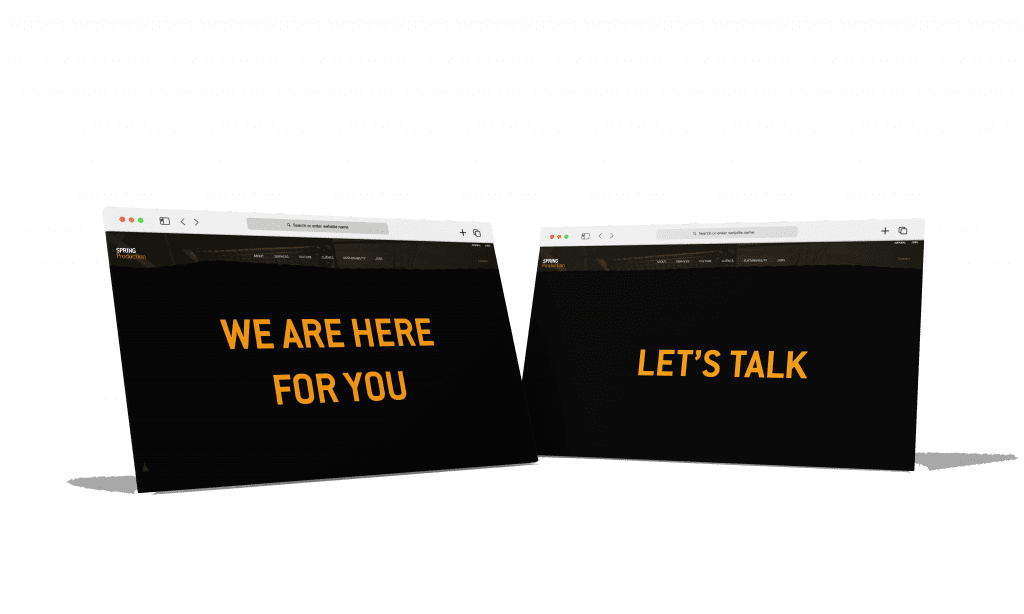 Depending on your situation and needs, the onboarding usually lasts four weeks. However, the onboarding may take longer with especially large and decentralized organizations, where the process may continue over months, while we evaluate and look at optimizations together.
In relation to this, it is common for various types of challenges to appear during the onboarding phases, but we train our people who work directly with clients to keep an eye on important key parameters that are tracked and followed up on.
We use the investigation phase to gain a deep understanding of the ways your business operates, review current systems and processes, and outline the expectations for our relationship. By analysing the key needs, specifications and IT requirements in relation to your projects, jobs and workload, our expert onboarding team will work to identify key areas for optimisation, providing a framework and target timeline for delivering a seamless and collaborative working relationship.
We will meet with your stakeholders and teams to discuss our workflow and optimisation suggestions and plan for onboarding the rest of the company. At this stage, SPRING Production is able to provide you with a comprehensive list of set-up recommendations that cover:
– Brand guidelines
– Process flow
– Briefing forms
– Master templates
– Job specifications
– Asset (file) handling and logistics
– Technical set ups
– Communication and meetings
– Budgeting and invoicing
– QC set-up
– Approval and proofing set up
Each recommendation is custom designed with you, the client, in mind. Using our knowledge of your business, we take a pragmatic approach to fine-tuning your processes and adapt directly to your needs, ensuring all communications and projects can be quality checked and delivered on brand.
We will typically ask to work on a pilot project or job which will help us further understand how to brief our production teams, identify more areas for improvement, define dos and don'ts, and adapt to your visual brand universe. Based on clear guidance from you, our onboarding team will work to correct inefficiencies and guidelines and finalise an action plan for full implementation and quality control.
The final implementation phase involves us using the learning outcomes from the previous stages to manage agreed jobs and execute a seamless production process. Through a dedicated project management team, we keep track of timelines, briefs and deliverables and provide you with daily communications and regular status reports on active projects, keeping you in touch with every stage of production. Should any challenges or changes arise, we can provide instant flexibility and scalability to adapt to your needs head on. And as our partnership matures, we will schedule regular review meetings to provide feedback on our work and processes and discuss any further optimisations we think may benefit your business.
Onboarding is the first and most important step towards building strong, co-operative ties with our client partners. By making the whole process as simple and efficient as possible, we aim to provide you with the most profitable and effective service possible. Whether you need us to enhance your capabilities, provide scale and flexibility, or optimise your approach to production, we're here to help you achieve your biggest ambitions.
Want to know more about the onboarding process?
Contact us, and we will give you an in-depth introduction on how we onboard our clients. 
Clients we have worked with