Head of Global Marketing & Communication
"The sustainable agenda is actually not as boring as it sounds – communication, marketing and everything we do is based on being a sustainable business. "
The head of communication and much more
Bjørn Kryger, SPRING Production's Head of Marketing and communication, has more then a decade of expericence with digital marketing and communication. He is also the knot the ties together the sustainably efforts and ESG work of SPRING Production.
What I bring to the table
Marketer. Communicator. Inspirator. Leader. Follower. Organiser. Writer.
"Challenges… I believe that we as people need challenges everyday in order to grow. These challenges can be personal or professional. Sometimes they are fun and easy, sometimes the opposite – but we need them none the less. "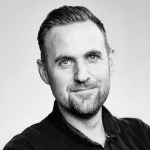 Discover a whole universe of marketing production services from me and my team