"Content writing is a formidable force. It not only empowers brands to build meaningful connections with their audiences, but it also enables them to command attention in the most crowded marketplaces. Words are the engine that drive marketing success…"
A bit of intel on the guy behind the words
Jack Threlfall, SPRING Production's Head of Content, is a seasoned copywriter whose 12-year writing journey spans English teaching, music journalism, and commercial copywriting. His versatile style, keen eye, and relentless curiosity have helped bring to life the marketing visions of the worlds biggest brands. A champion of simplicity, Jack finds beauty in minimalism and values clarity above all else. Away from his desk, Jack wields his strategic mind over a chessboard, his sharp manoeuvres reflecting the powerful tactics he employs in his daily work.
What I bring to the table
10+ years experience in the creative industry; starting with graphic and web design, photography and then migrating towards 3D as a game artist, compositor, 3D artist and later VFX supervisor.
what makes your work special to you?
"Undoubtably, it's the people. Our team of writers are whip smart, highly experienced, and ready to handle any task that's put in front of them. The collaborative nature of our company culture really gets the most out of their expertise and experience – we're far more than the sum of our parts."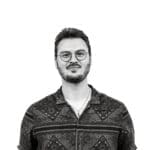 Discover a whole universe of marketing production services from me and my team